GEMBA 2021 Class CSR project: What a difference 'One Hour' makes
Corporate social responsibility (CSR) may look different in every organisation, but at its heart it's about making the world a better place one piece at a time. The concept has been fully embraced by the GEMBA 2021 class, whose ongoing One Hour CSR project demonstrates how much good can be accomplished in just 60 minutes.
We spoke with GEMBA 2021 Class Committee Team (CCT) CSR leaders Heling Gu and Feini Meng about the inspiration behind this novel project, the extent of its initial success, and the class's plans for its future.
Feini Meng
Regional Sales Leader, Ferrero China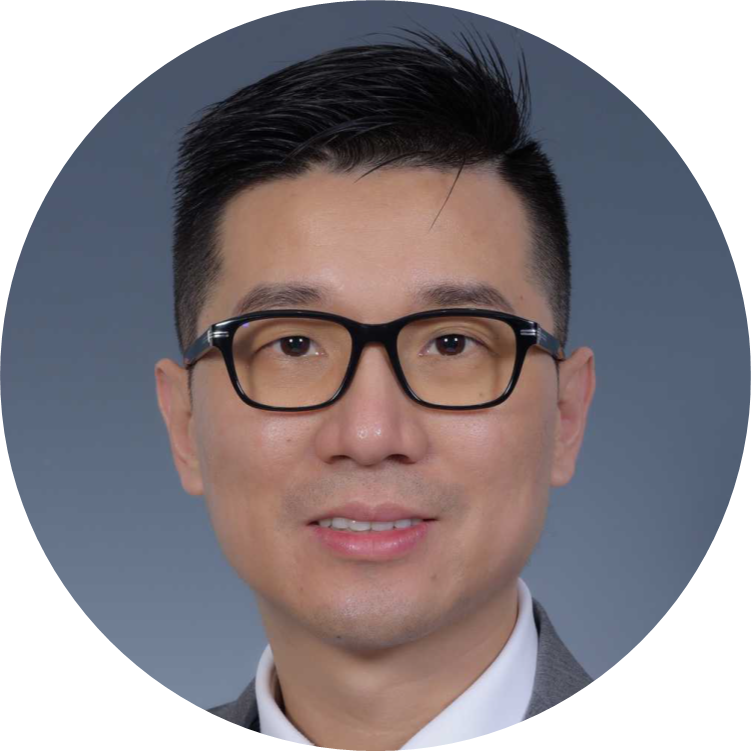 Heling Gu
 Founder and CEO, Shanghai Lingwei Intelligence
Effective CSR – Keep it focused, keep it targeted
Feini:  Past experiences with CSR have taught me that you must think about the real-world impact of your efforts before anything else. Too often, companies will try to donate something or create something that looks lovely and shiny, but does nothing to address the root cause of the issue they are trying to tackle. CSR should never be about making the organisation look good, it has to be about doing tangible, measurable good.
Both Feini and Heling are veterans of managing CSR efforts at their current and previous organisations. Experience has shown them that, to be effective, CSR must be focused on tangible results. Like any business operation, time and resources must be allocated in pursuit of a well-defined, measurable outcome, or risk simply being frittered away. It is better to start small and build on a foundation of success, rather than launch into a grand project with an ill-defined end result.
This is the mentality that led the GEMBA 2021 CCT to create the One Hour project. Its concept is simple: Executives have abundant professional insights and experiences to share, but lack sufficient time to share them. Rather than diving head-first into a major CSR project with far-reaching goals that require a sizeable time and resource commitment, the One Hour project was designed to empower GEMBA students take a small but significant first step.
Heling: It's clear, easy to remember, and easy to accomplish. If you can contribute just one hour of your time, your experience and expertise, you can make a difference. After giving that hour, you can reflect on its impact; it's easy to see the tangible difference it has made. From this small initial step, you can get motivated to give more, to find another hour to contribute, and then another, and so on. That's what motivated us to launch the One Hour project – to start small and grow from there.
One Hour to change the career path of a student
Once the goals were set, the CCT also needed an open platform for GEMBA classmates to contribute their time. As the CSR leaders of their respective teams, Feini and Heling both decided to work with students on this initial project, branching out in two different but related directions.
Feini reached out to Junior Achievement (JA) Worldwide, a prestigious non-profit youth organisation that has just celebrated its centenary. Since its founding, JA has provided numerous employment and entrepreneurial opportunities for young people across the world, helping them to find meaningful work and start sustainable companies. Having volunteered with JA at university, Feini knew that the organisation would be a great fit for the One Hour project.
To this end, Feini and her fellow classmates prepared a series of short industry introduction lectures tailored to university students. As the Shanghai lockdown expanded, it seemed an obvious choice to deliver these mini lectures (followed by Q&A sessions) online. Students who signed up for the six-day programme were able to log in for just one hour every day to watch the industry presentation videos for that given day. Each GEMBA volunteer was responsible for creating the video content, delivering lectures to a live audience at the appointed time, and answering various questions from students via WeChat afterwards.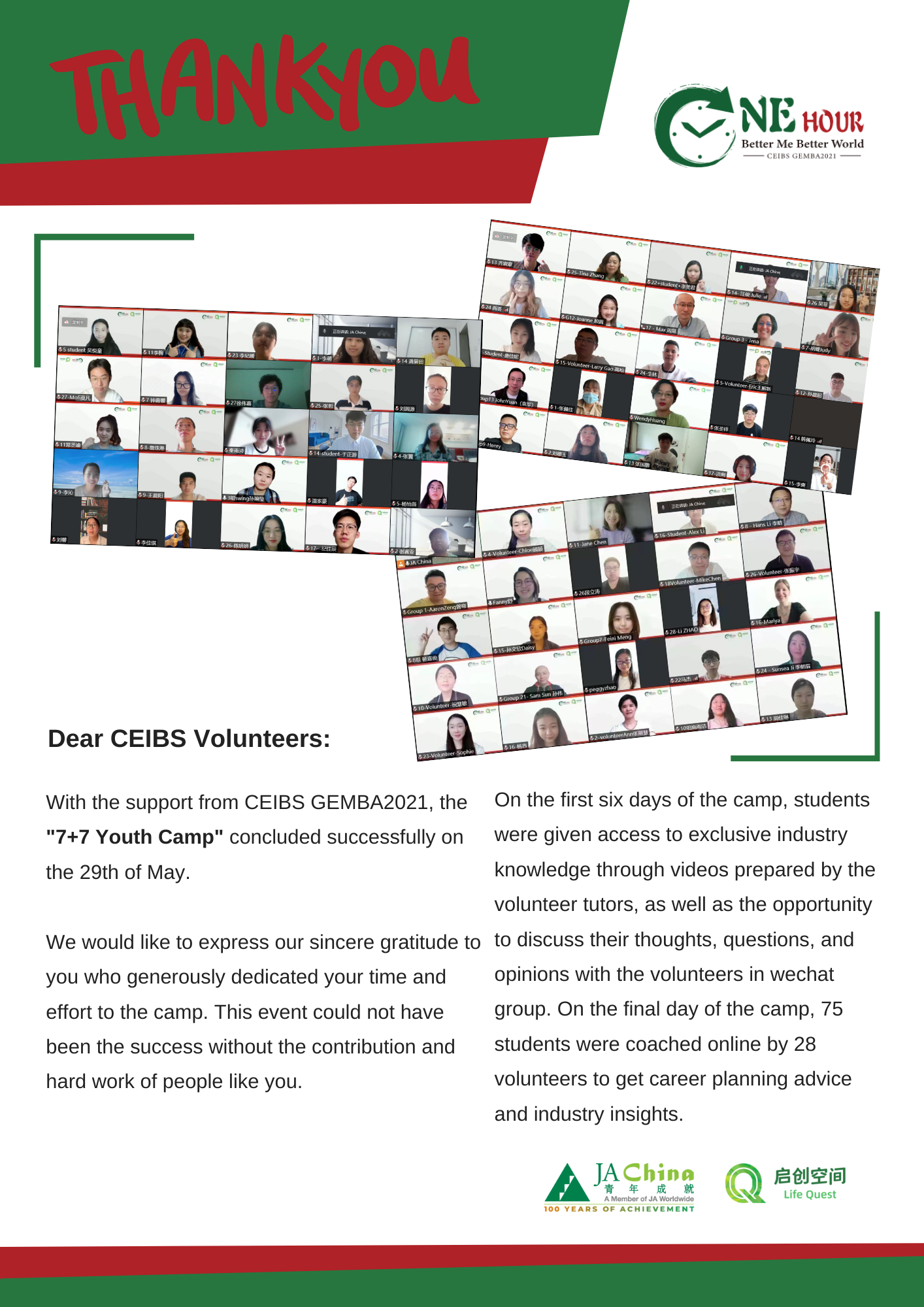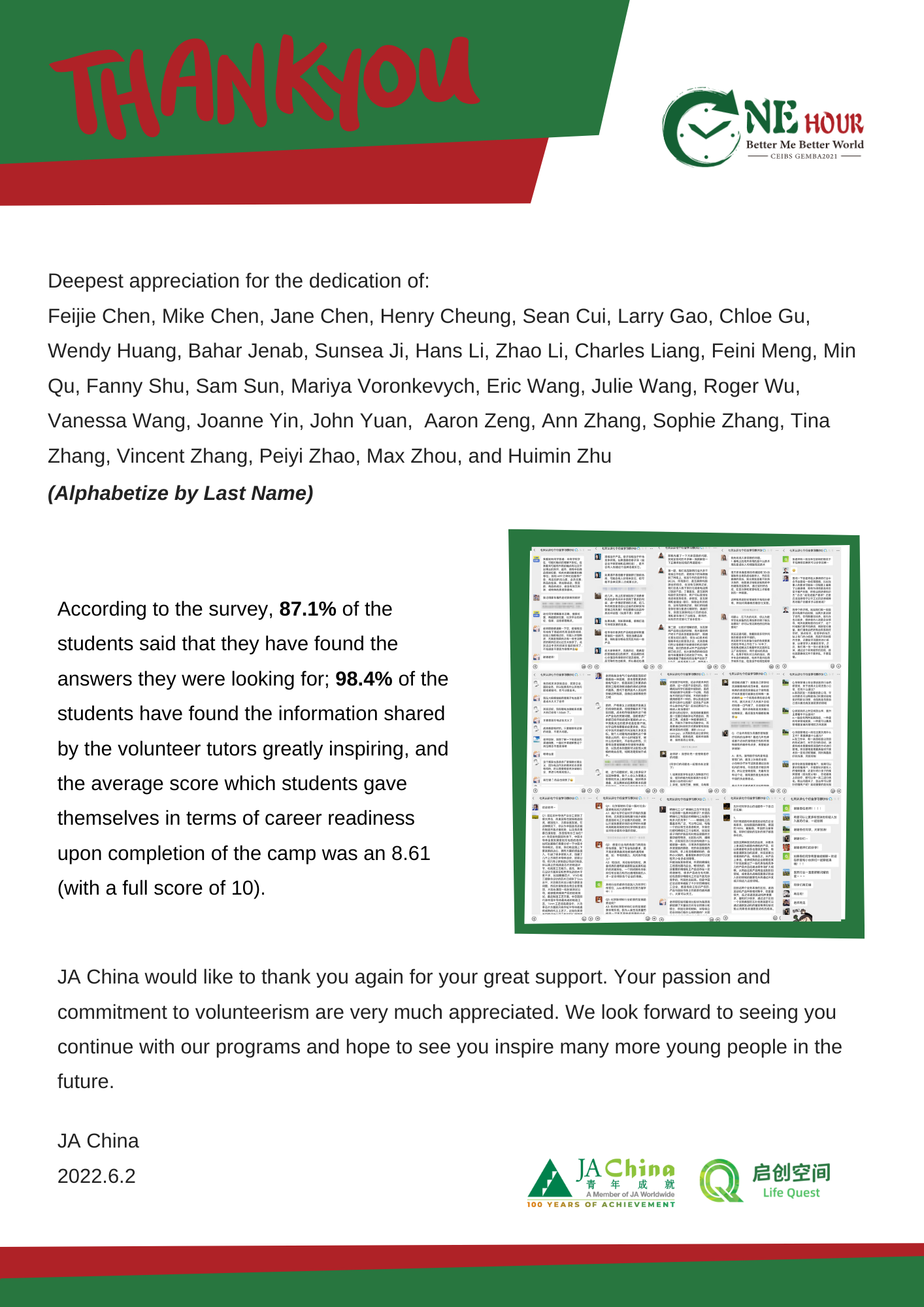 Feini: Every volunteer knew from the beginning that they wanted to give more than one hour. As they became familiar with the operation model and saw how well students responded to their industry introductions, the idea of improving the experience came to them. They spent time answering students' questions, and rehearsing them in advance. This meant that every student would receive a great deal of valuable information in just one hour.
After the first six days of hourly industry introductions, the seventh day served as a forum where all the volunteers and students came together to reflect their efforts over the week. They shared their findings, answered follow-up questions from students, and split into more targeted groups for further discussion.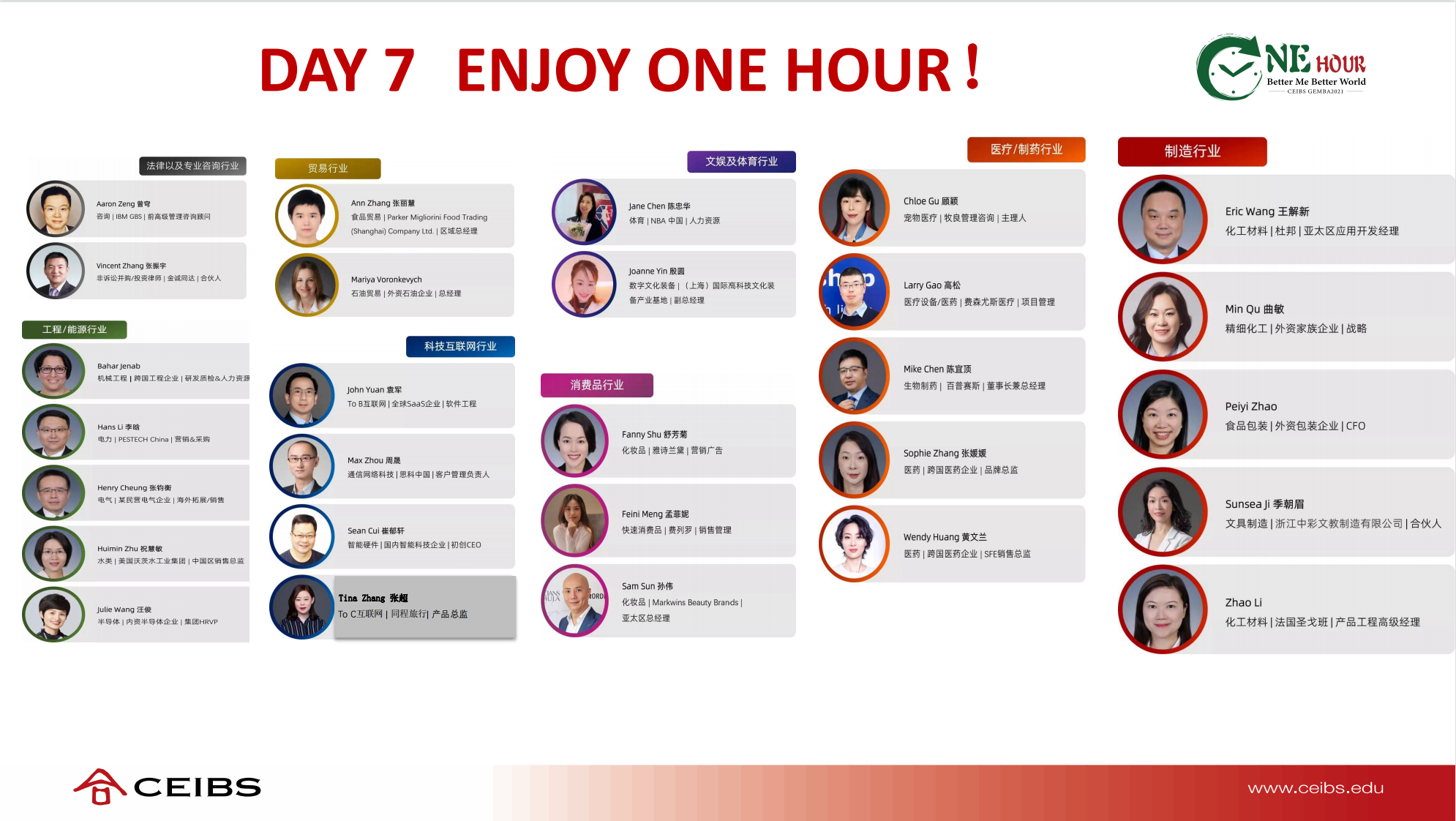 As a result, almost 100 students gained a deeper understanding of various industries, and received guidance from experts within those fields. A survey of students' responses to the seven-day course found that 87.1% said they've got what they want from the course. Nearly all of them (98.4%) felt inspired by the experience, and said it would be valuable in helping them determine their future career path.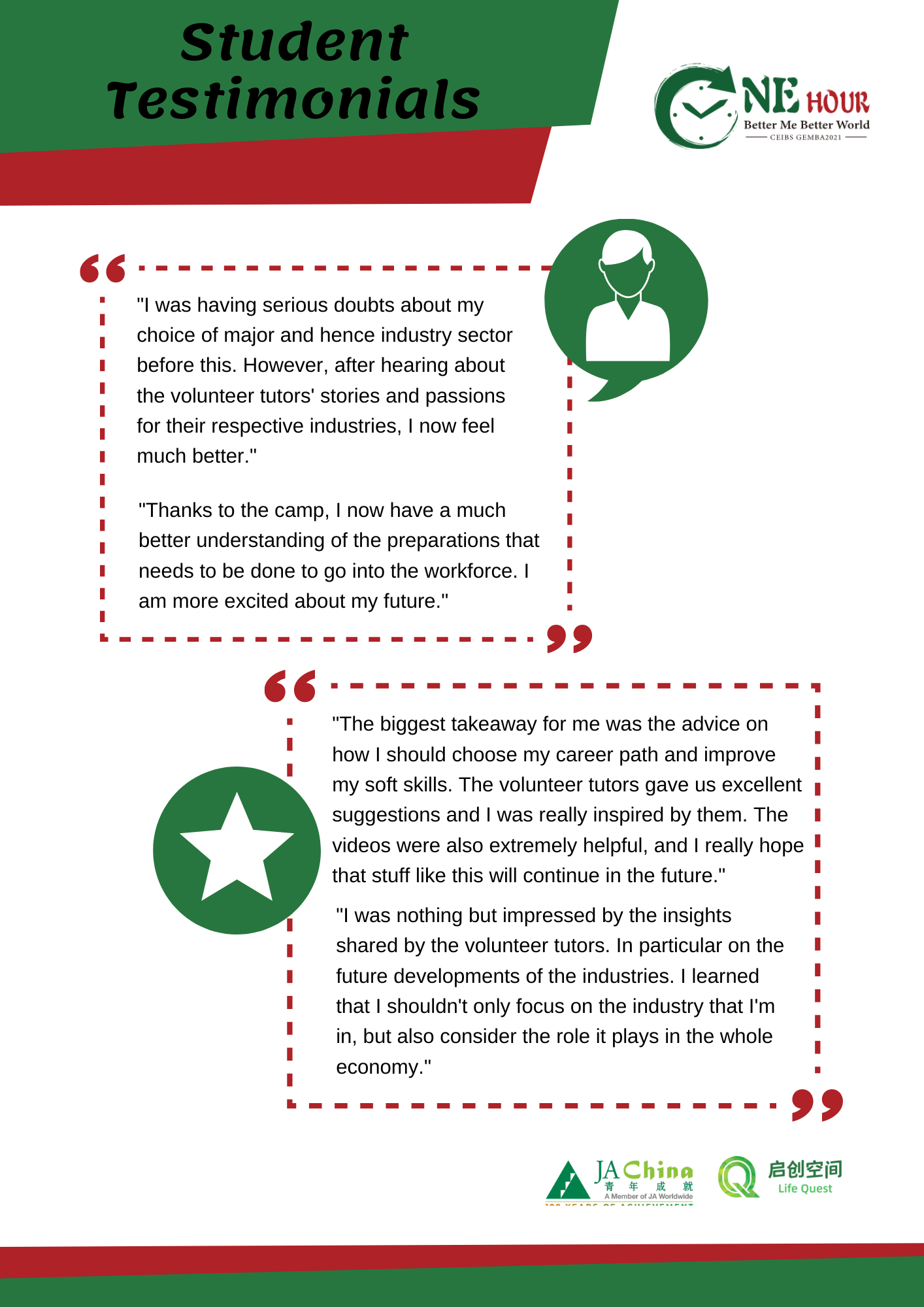 The whole experience was equally rewarding for the GEMBA volunteers too. 95% provided positive feedback, with the vast majority saying that they were happy to give their time, and satisfied with the results of the event. They also said they would happily volunteer for a similar project again in the future.
Feini: It was extremely satisfying to see such a positive response from both the volunteers and students. Having learned how well the project went, other GEMBA classmates also came to me, asking to be involved in future One Hour projects. For me, this is the ultimate endorsement of the One Hour model – we started something which achieved good results and made an impact, and we can easily expand upon its initial success.
Shaping young minds and careers
Similarly, the Heling-led One Hour project was also an online mentoring project. In this case, GEMBA volunteers teamed up with Yiyou Youth Centre. Like JA, Yiyou provides young people with numerous opportunities for personal growth and career development. During the past 5 years, more than 6,000 volunteers have provided over 60,000 hours of mentoring to around 10,000 college students through the centre.
Heling: We conducted a sample questionnaire to find out what kind of CSR project GEMBA students would prefer to be involved in. Of the six options, ranging from environmental support projects to animal welfare, a sizeable majority preferred to provide coaching for young people (perhaps because it made them feel like being back in school themselves). Another reason is that we were keen to find out what young people think about our industries, and the workplace in general.
Heling led volunteers to launch into their own online mentoring project for university-level students over the course of one week. Each student received an average of nearly 3.5 hours of mentoring. As with Feini's JA project, this project highlighted the successful nature of the One Hour concept. Most volunteers mentored one student, but some took on two or even three at the same time. The One Hour project allowed volunteers to participate in shared activities within a manageable time frame and inspired a greater sense of commitment.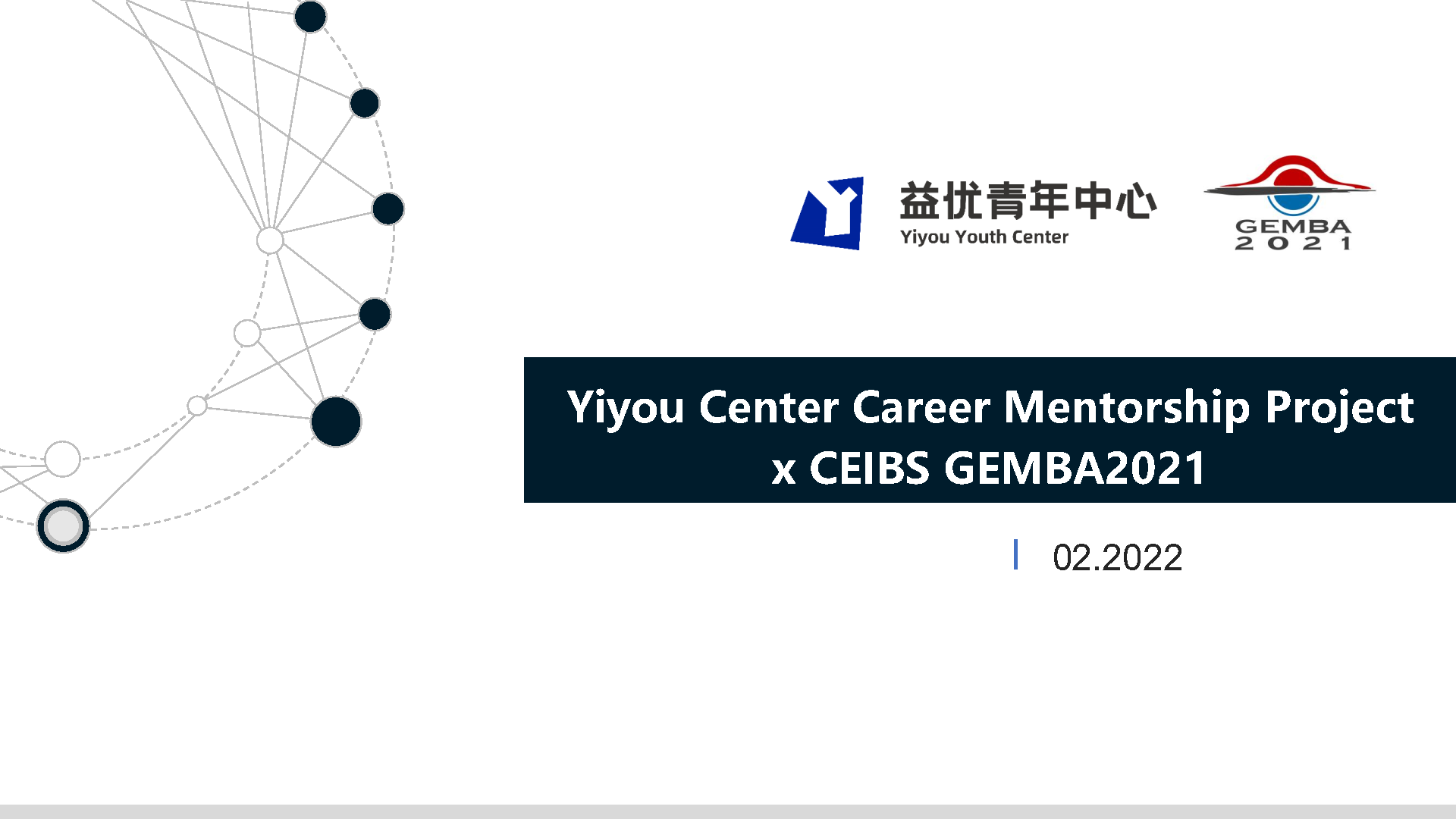 Results showed that Heling's One Hour project also turned out well. The average satisfaction rating given by participating students was 8.7 out of 10, and the volunteers involved were unanimous in saying that they would be happy to mentor students again.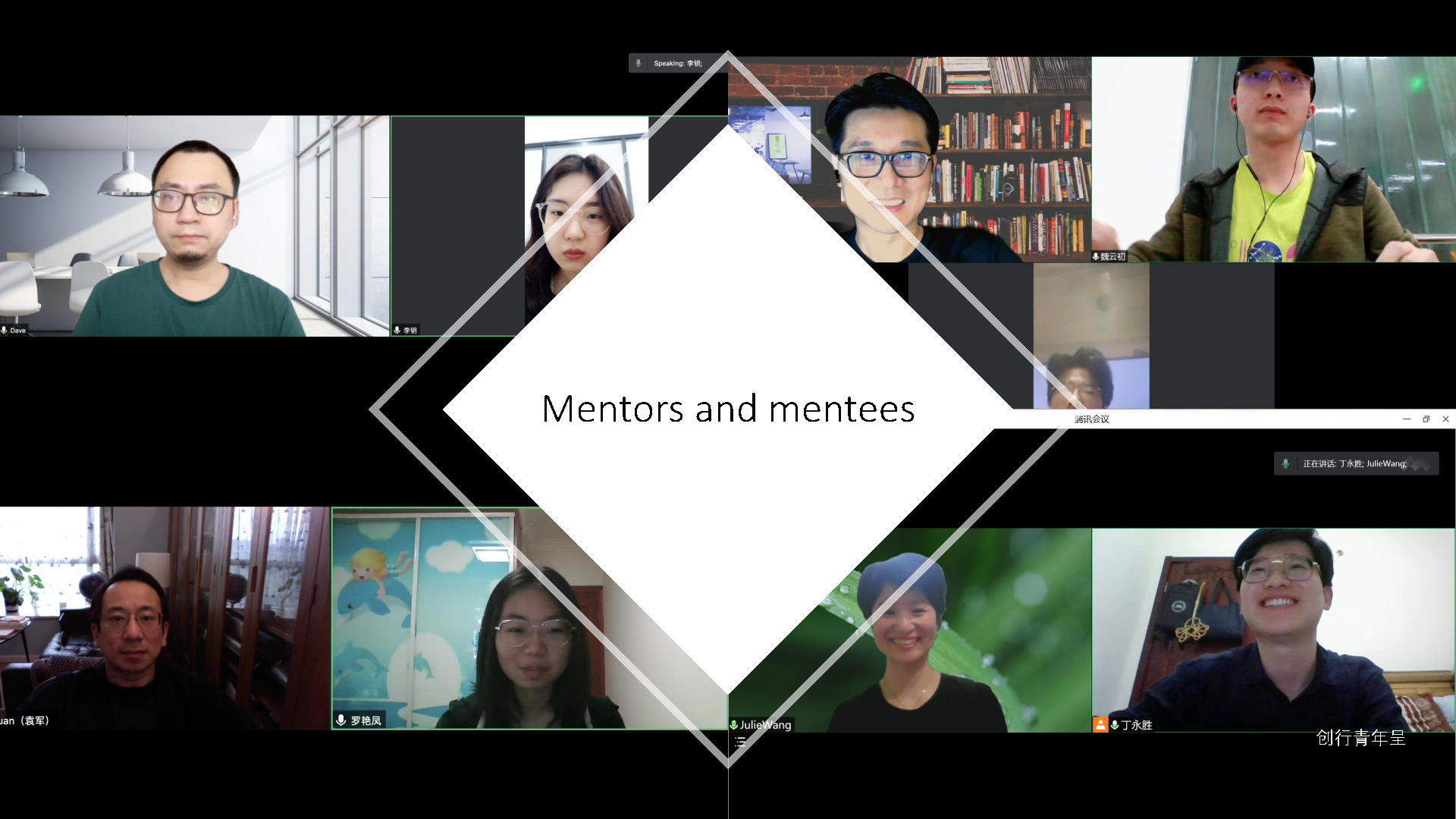 Heling: The reason why both students and GEMBA executives responded so well to this project was that everyone feels good to mentor or be mentored. For many of us, the project reminded us of our own university days when we hoped to receive real-world advice from experienced professionals to help us clarify our life choices. It was also great to just talk to the younger generation, learn about their dreams, aspirations and concerns regarding their future careers. We both learn from each other – the students become more confident in taking chances, while we learned more about how to guide young people in a clear, caring and empathetic way.
CSR means you get what you give – Every organisation should develop responsible leadership
Responsible leadership is at the heart of the GEMBA programme. Social responsibility is embedded in the teaching, research and alumni activities of the programme. We strive to guide every student, no matter their role, function or industry, to think and lead in a positive and responsible way because this is exactly what the world needs. We should reach a consensus that there is no hope for a sustainable future for mankind, society, or any individual business, if influential people in positions of power fail to understand the importance of giving. However, it is equally important to note that CSR is not just a money drainer purely for the benefit of others, but rather a sustainable and long-term approach when practising social responsibility goes hand in glove with creating value and profit. Companies are often under the mistaken impression that being ethical and responsible in business hampers profitability. Increasingly, the opposite proves to be true.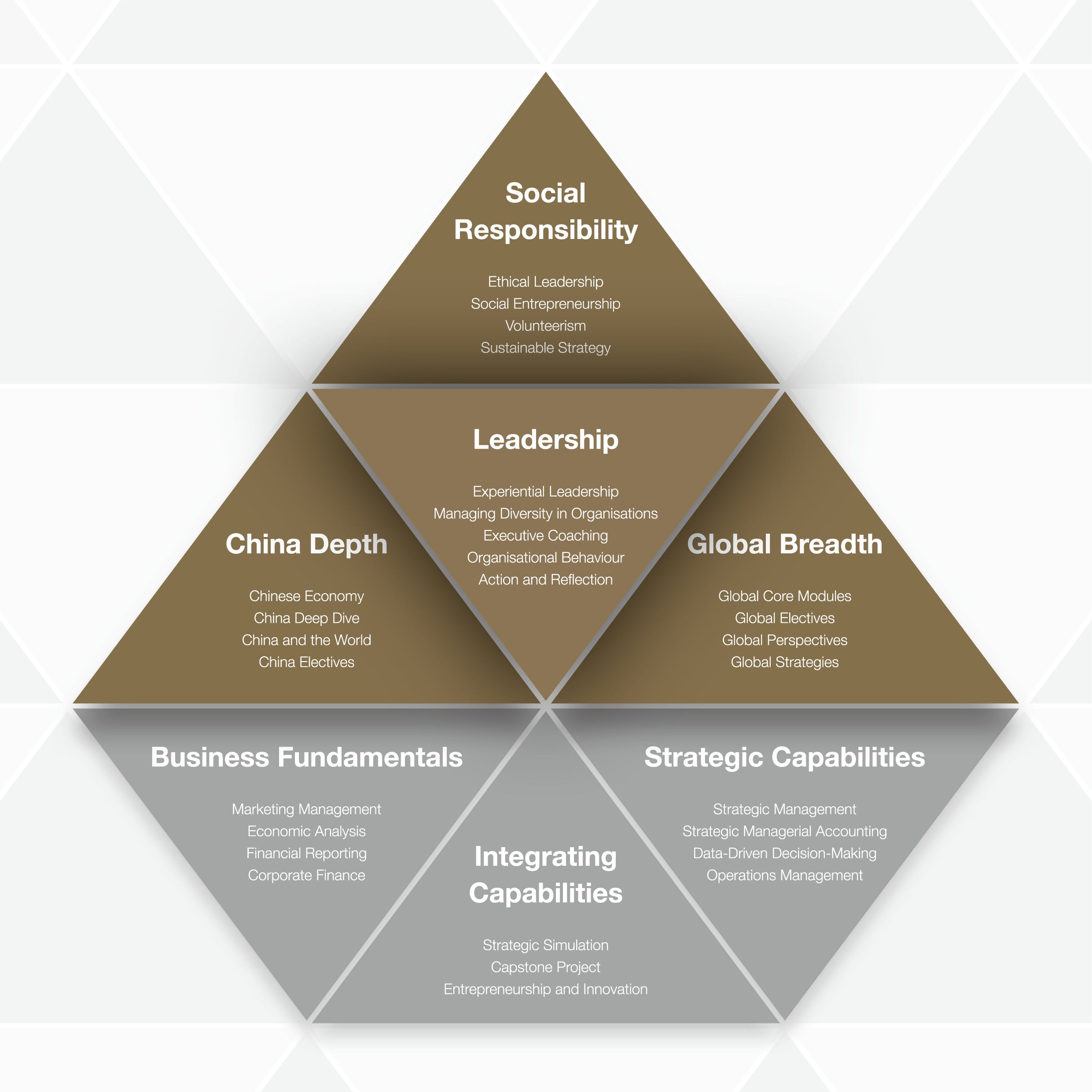 CEIBS Global EMBA programme design
Congratulations to Feini, Heling and all the GEMBA 2021 class volunteers on the successful start of their well-designed One Hour project. Unfortunately, the planned second instalment of the project – working with children from remote areas in China – was recently cancelled due to ongoing COVID-related concerns. However, the CCT remains undaunted, and no doubt we will be hearing about the next One Hour update in the very near future.
Writer: Tom Murray      Editor: Effy He and Michael Thede