Thursday, December 01, 2022
Inspire to grow! Global EMBA 2022s gather for opening ceremony
The end of the year is always a special time in the CEIBS Global EMBA calendar, as it is when we welcome the latest class of new students to the programme and to the CEIBS family. The GEMBA 2022 class recently gathered at our Shanghai campus for a special opening ceremony and the formal start of their 20-month learning journey.
Excited to be meeting as a class for the first time, this year's 90-member-strong cohort marked the occasion in the company of students from other active GEMBA classes, members of the alumni community, faculty and CEIBS leadership. Together, they celebrated the start of a new chapter in their lives, and received plenty of words of encouragement, advice and support.
Inspire to grow: A warm welcome from CEIBS leadership
As the MC of the event, CEIBS Associate Dean and Director of the GEMBA Programme Bala Ramasamy started the proceedings with a welcome message for the new students.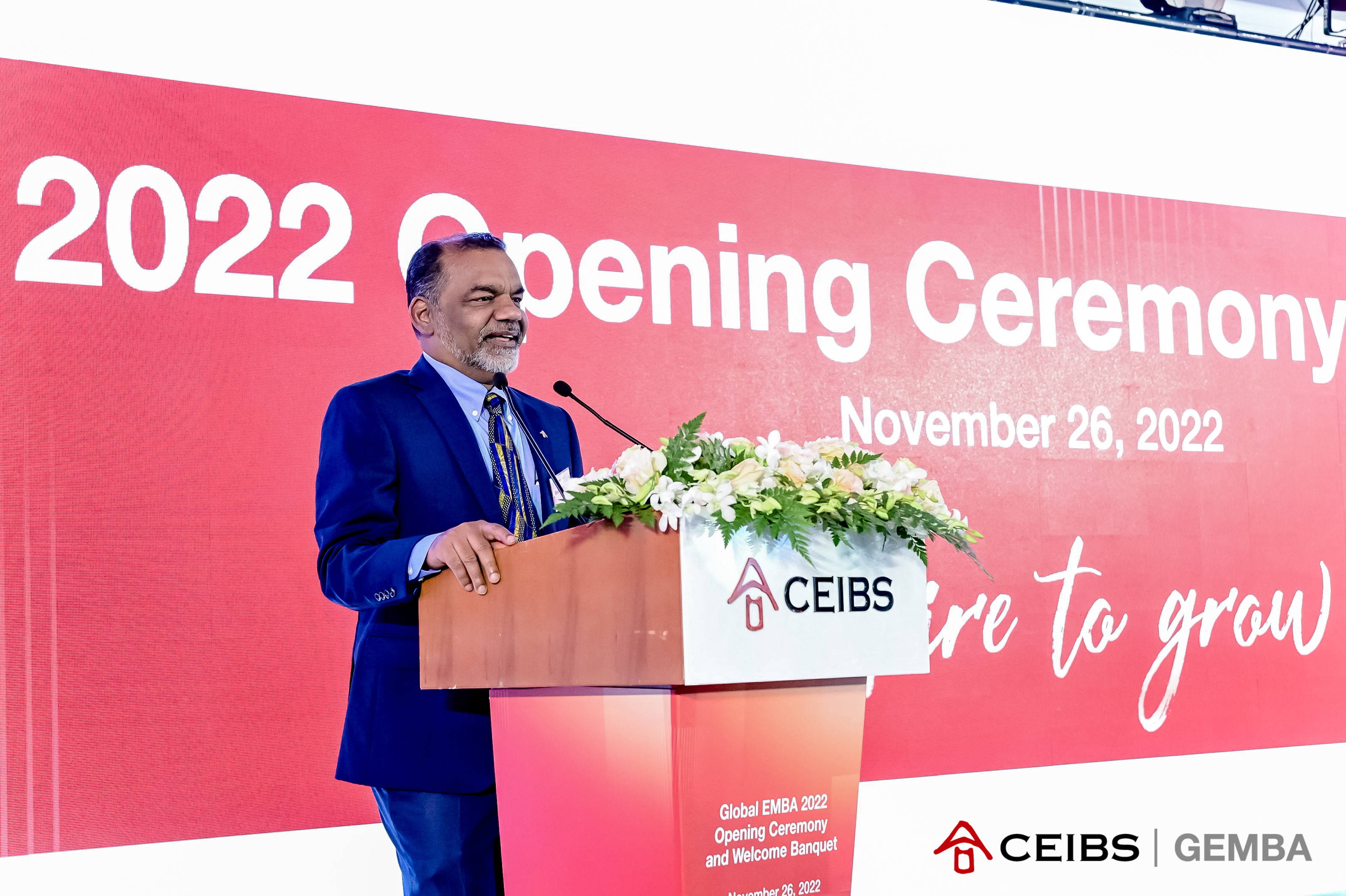 CEIBS Associate Dean and Global EMBA Director Professor Bala Ramasamy
"We are delighted to welcome this outstanding group of 90 students today. Sitting with us here in this room is a very special group of high-achieving, high-potential decision-makers, who are all looking to reach even higher in their personal and professional development. You arrived on campus as a group of disparate and diverse individuals, unknown to one another. You will leave as one GEMBA class and one GEMBA family."
Taking their cue from Prof. Ramasamy, CEIBS Presidents Wang Hong and Dominique Turpin shared messages of warm welcome and sage advice for the incoming cohort, of whom they said they expect great things.
CEIBS President Wang Hong
"You come from all over the world, with a variety of cultural and industry backgrounds. In the VUCA era, you have chosen to study at CEIBS to proactively anticipate and adapt to change. I admire your courage and resolve and I'm proud to see you at CEIBS. I believe that enrolling in the CEIBS GEMBA programme is one of the best choices you will make in your life. During the next 20 months, I hope you will adhere to the school motto of "Conscientiousness, Innovation and Excellence", integrate knowledge into action, shoulder responsibilities, contribute to society and benefit the public, and become excellent leaders with business wisdom and responsibility."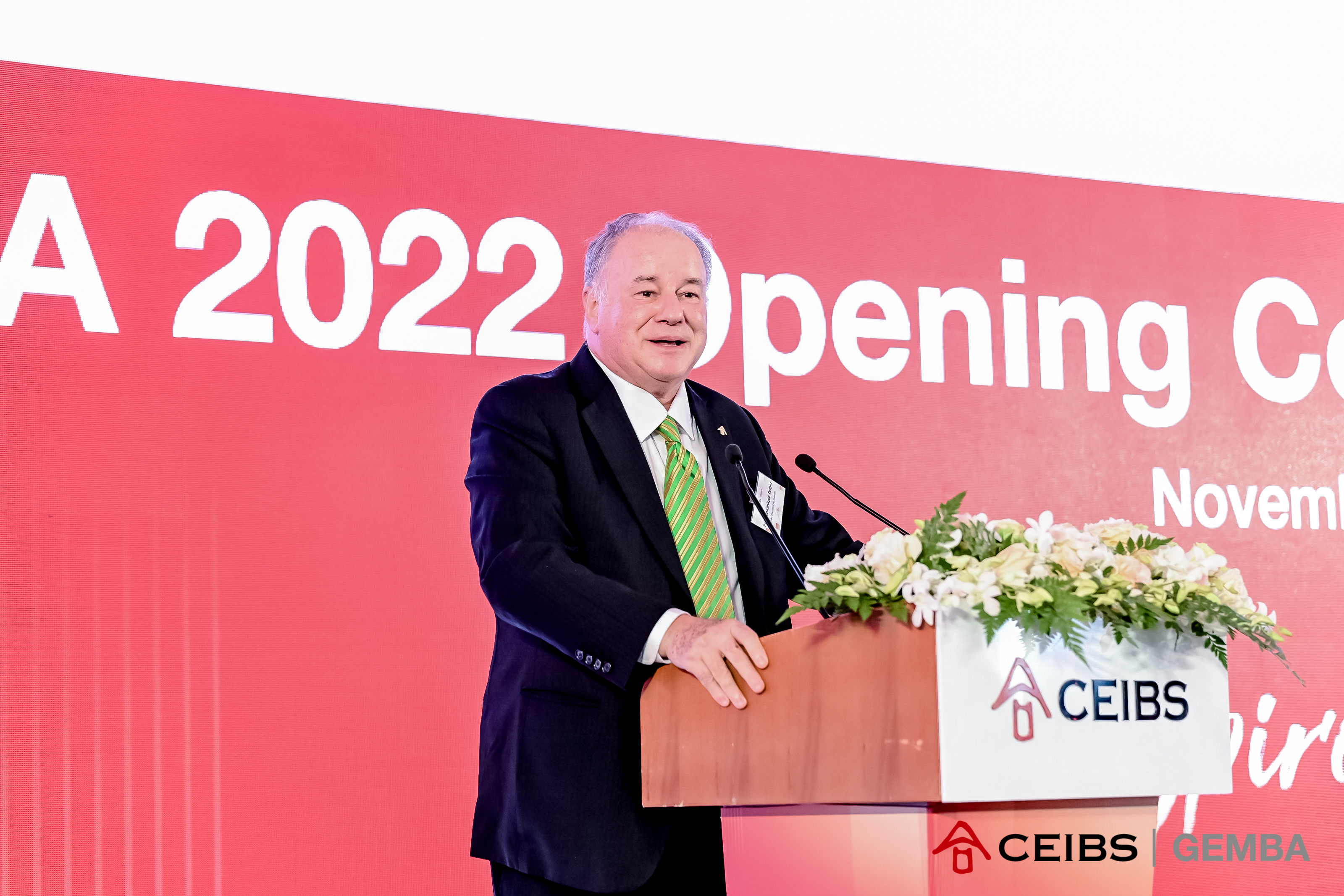 CEIBS President (European) Dominique Turpin
"You're embarking on a long journey. It's like climbing a mountain, sometimes you must take the path to the right, sometimes to the left, but at the end of the day it's up to you to get to the top. To do that, to make the most of your time here, I advise three things: Firstly, have an open mind when discussing anything with your peers and professor. Be curious about the world and about industries beyond your own. Curiosity allows you to share your experiences and absorb others' effectively. Finally, respect each other. This is a community you'll be part of for life, so respect it, learn from it, contribute to it and enjoy being a part of it."
GEMBA 2022 formally launches
Following the opening addresses and a ceremonial launch, it was time for the traditional welcome message from CEIBS faculty. This year, CEIBS Associate Professor of Entrepreneurship Taiyuan (Terry) Wang took to the stage, with a reminder for the students that they will get out as much as they put in to the programme.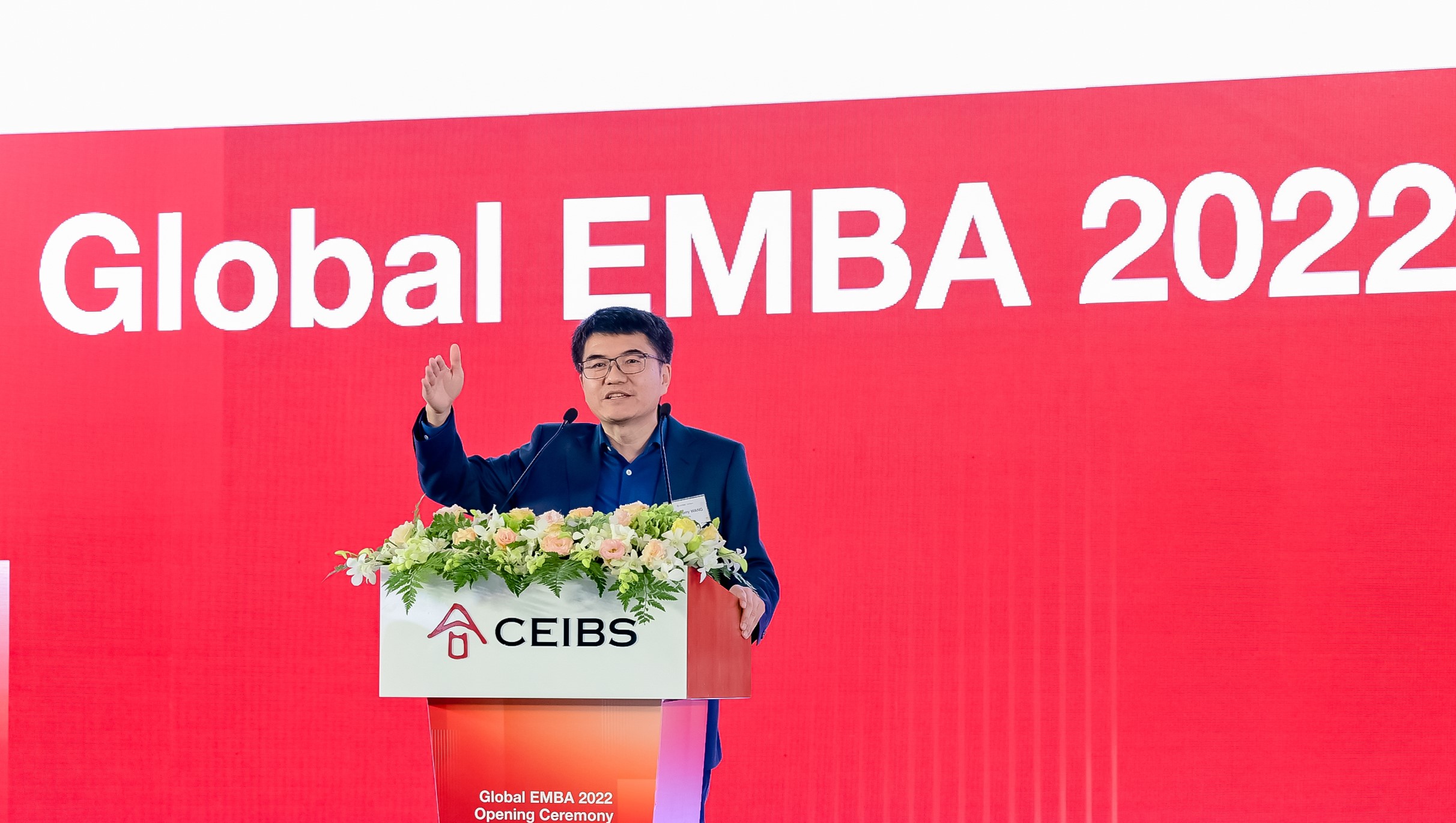 CEIBS Associate Professor of Entrepreneurship Taiyuan (Terry) Wang
"I can promise that the CEIBS faculty will provide the following 'Three C's'. We create knowledge that is deep for the Chinese context, but also has important implications globally. We connect with industries and businesses, ensuring our knowledge remains relevant and practical. Finally, we care about our students, not just because you have paid very high tuition fees, but because your personal and professional growth will be the foundation for us to build a better school, and a better world.
However, these three C's don't come for free. You have to give us three C's in return. We expect your commitment, as this is an intensive programme; your contribution, whether by sharing your experience, working with professors to write a business case, or one of hundreds of other ways to contribute; and, finally, we want your consideration. In a world that is full of conflicting perspectives and opinions, I suggest we try to consider others' opinions and perspectives as equally important as ours."
Also following GEMBA tradition, the students heard from representatives of both the previous year's class and their own. Representing GEMBA 2021, Automotive Business Director of Bitron APAC Pier Visotti encouraged his peers to aspire to do three things.
Pier Visotti (CEIBS Global EMBA 2021)
"Change is a necessary condition for improvement. I embraced a major change exactly one year ago when I joined GEMBA, and today I'm happy to see so many talented people here, ready to take the same step. To make your journey as memorable as possible, I have three suggestions. Firstly, be valuable: always try to add value to this community, to share your resources and create new opportunities for learning. Second, be global: think local traditions, but global ambitions. Be as open and inclusive as possible. Finally, aspire to make a difference: think big, be willing to make positive changes, and stay determined to be a leader, not a follower."
Next, GEMBA 2022 class representatives Yannick Yin, Chief Technology and Product Officer of ArcelorMittal China, and Charmaine Lin, Client Partner GM of Gusto Luxe, shared similarly inspiring words for their peers.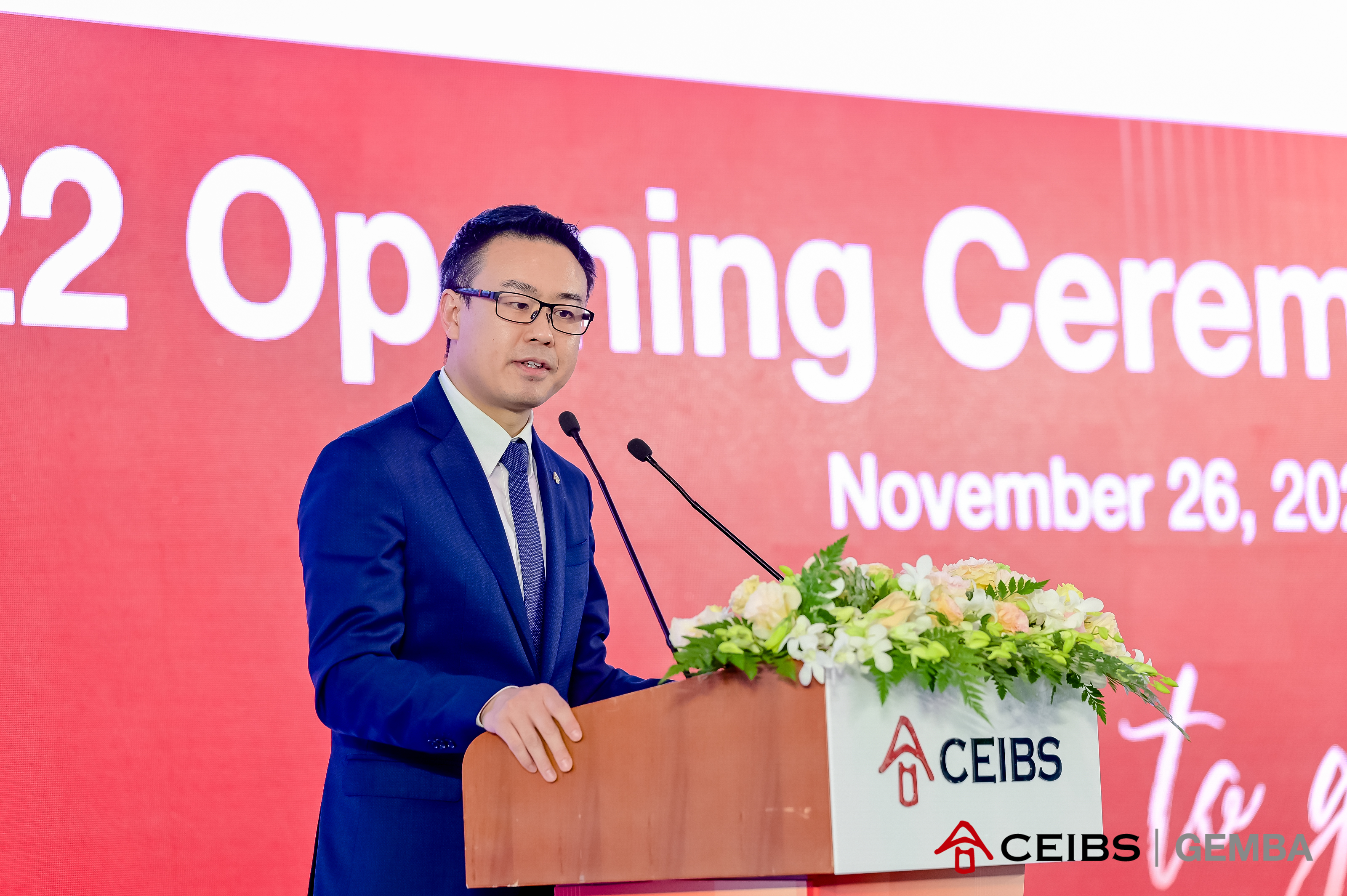 Yannick Yin (CEIBS Global EMBA 2022)
"Like [American professor and author] Brené Brown once said, what we know matters, but who we are matters more. We are already managers, business owners, we probably all have had solid careers, good positions. We are enriched by our experiences, emboldened by the risks we have taken, educated by our failures and successes, and empowered by the trust and relationships we have formed, but we want more. Throughout the journey at CEIBS, we want to become better ourselves, and we aspire to make a difference to our world."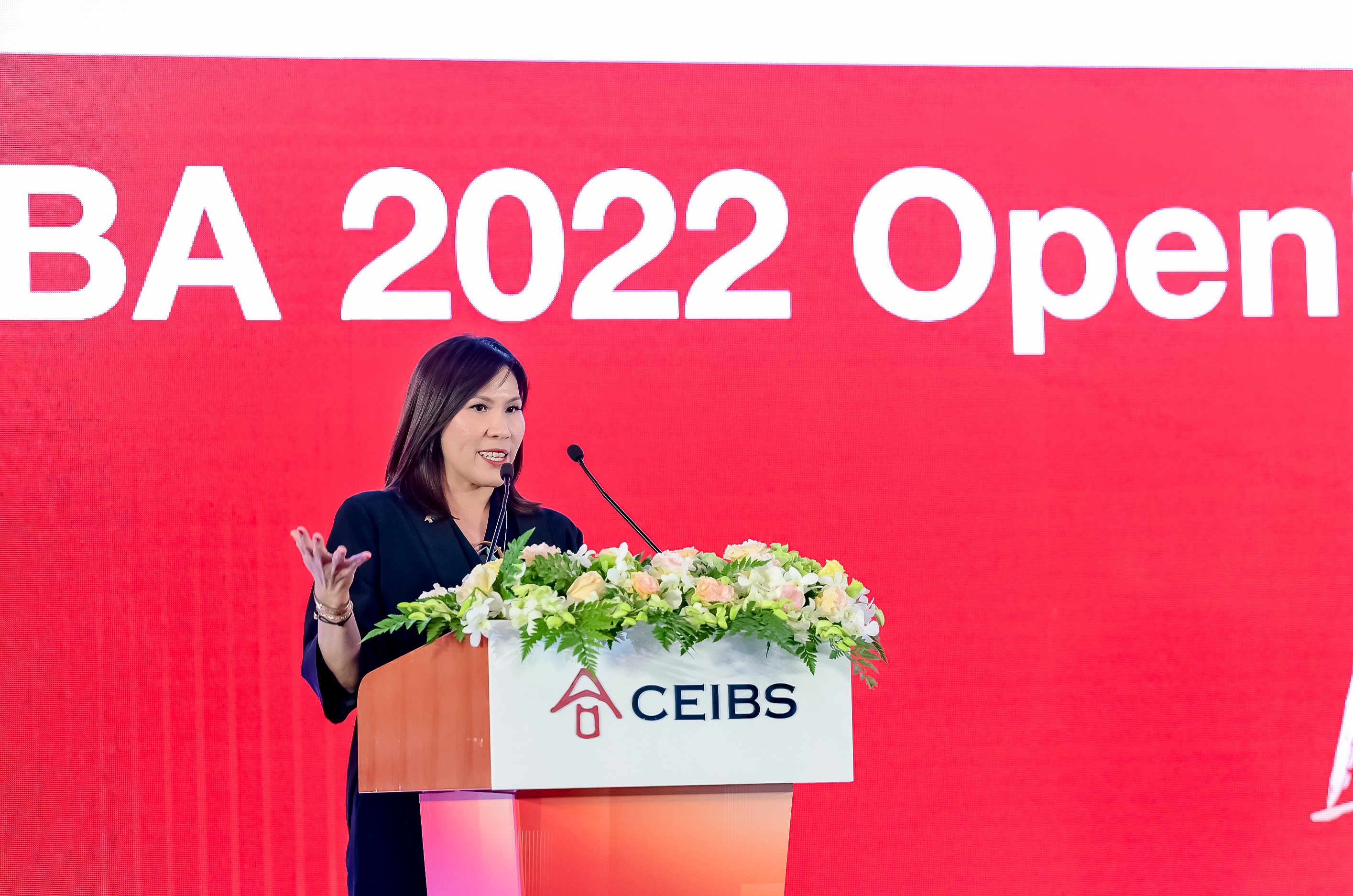 Charmaine Lin (CEIBS Global EMBA 2022)
"To my fellow classmates, I look forward to hearing all your stories over the next few days and months. But no matter what our reasons and motivations, I believe we have all probably gone through similar struggles, doubts and uncertainties during the whole process of deciding whether to embark on this very difficult journey. But if those who have walked on this path before us are to be believed, the rewards that we will gain, be it mentally, emotionally, or even professionally, will hopefully far outweigh the difficulties that we will face along the way."
A new beginning: Leadership module puts GEMBA 2022s through their paces
Following orientation, the new cohort started their leadership module with an experience which is as intense as it is rewarding.
Focusing on self-discovery, the eight-day residency module allows each student to dive deeply into the true extent of their leadership strengths, weaknesses, habits, behaviours and core motivations. Led by Professor of Management Katherine Xin and guided by one-to-one professional leadership coaches, students are put through their paces, engaging in active learning scenarios ranging from team rowing to survival exercises.
As they engage in their first true taste of GEMBA, we wish every new student the very best of luck in achieving their goals, both personal and professional, as part of the GEMBA and wider CEIBS family.
Together, we achieve more!
Writer:Tom Murray  Editor:Effy He and Michael Thede