Monday, November 21, 2022
Executive Forum: Creating a New Era of Care
Please join us for our upcoming CEIBS Executive Forum on November 21, 2022, with Mr. Yihao Zhang, President & CEO of GE Healthcare China, a leading global innovator in medical technology and digital solutions, who will give a lecture on Creating a New Era of Care.
GE Healthcare believes the future of health will be more precise, more connected and more compassionated. As a leading global innovator in medical technology and digital solutions, its purpose is to create a world where healthcare has no limits.
With more than a century in China, GE Healthcare was one of the earliest multinationals to take root and develop in the country. Aligning with China's priorities around 'dual circulation,' 'rural revitalization,' 'national innovation' and 'Healthy China 2030,' GE Healthcare has transformed its purpose and strategies to meet growing demand from both urban and rural populations. At the same time, GE Healthcare is strengthening its innovation and localization efforts to support high quality development for China's healthcare industry.
During this event, GE Healthcare will share its latest updates on business development and future trends in healthcare. We hope to see you there.
About the speaker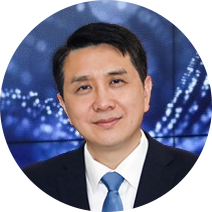 Yihao Zhang
President and CEO, GE Healthcare China
Yihao Zhang is the President and CEO of GE Healthcare China. He is responsible for the company's strategic development and business operations and driving the company's long-term sustainable growth in the China market.
Prior to joining GE Healthcare, Yihao was Senior Vice President and President for China & APAC at Danaher Dental Platform. He began his career in finance with TRW in the US and Canada, and worked for P&G in brand management in the US.
Yihao Zhang holds a bachelor's degree in mathematics and economics from Ohio Wesleyan University, an MBA from Kellogg School of Management and a master's degree in engineering management from McCormick School of Engineering at Northwestern University.
In September of 2021, Yihao was awarded the Shanghai Silver Magnolia Award by the Shanghai Municipal Government.
Date: November 21, 2022
Time: 18:30-21:00
Language: English
Venue: Offline and online (livestreamed via Zoom)
Note: Limited offline seating is open for CEIBS alumni and current students. Please select 'offline participation' in the registration link below if you qualify.
Agenda:
18:30-18:35   Opening
18:35-19:05   Speech by Mr. Yihao Zhang, President and CEO of GE Healthcare China
19:05-19:20   GE Healthcare Business Management Leadership Programme (BMLP) Info Session
19:20-19:30   GE&ME MBA Alumni Story
19:30-20:00   Q&A Session
20:00-21:00   Reception
Contact: Please register via the link or QR code below or contact Ms. Christina MOU at mchristina@ceibs.edu or +86-21-2890-5161 for more information.